Who's Behind Your Image?
Rearview Advertising is a full service advertising agency. Expertise within Rearview ranges from graphic design, web development, video production, mobile application development and back-end programming, to campaign development, copy writing, editing, printing, and PR.  Rearview also provides hosting for corporate servers, media, and custom data acquisition. Rearview stands out as a small agency among giants with its abilities, its experience, and its drive for efficient results-oriented marketing. We would love to talk about enhancing your company's image.
Not sure where to start? Contact us now and we'll start the conversation.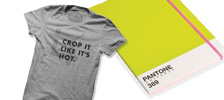 Featured Blog Post